It's all about your dog!
The West Family has proudly served the Columbus area since 1992 as DogWatch of Columbus. We have made it our business to keep your pets safe at home, yet free to run and roam the yard. DogWatch of Columbus is the ONLY hidden fence company in the area with over 24 years of service with the same brand. We treat our customers as we want to be treated by people we do business with.

Pat West is co-owner and handles sales, service, installation and everything in between. Emily West, co-owner, can be found answering the phones, managing the books and handling the marketing. Steve Runyon is our service manager and also a professional sports photographer. Steve owns and operates Twin Studios in Hilliard in his non-DogWatch time. Pat and Emily also own and operate Life Saver Pool Fences of Columbus to keep young kids safe from unsupervised swims in privately owned pools.

DogWatch of Columbus was recently awarded the prestigious DogWatch Dealer of the Year two years in a row. This highly coveted award is given based on several criteria such as growth, a commitment to customer service and overall representation of and commitment to the DogWatch Brand worldwide. DogWatch of Columbus also received the Top Dog Award for being the 8th largest dealer in the world and sales achievement award for growth above expectations. In 2015, the Hilliard Chamber of Commerce awarded us "Most Established Business of the Year".

Pat and Emily also have two dogs that you may encounter on a job. Potter is now retired from DogWatch duties, but is a 13 year old Miniature Schnauzer. Winnie is our young white spotted English Setter. You may get to meet Winnie if you need more advanced training.

If you're looking for a company that uses ticket numbers and where you'll never talk to the same person twice, we're not the company for you. But if you're looking for personalized and timely service, superior products, and honest business practices, give us a try - you won't be disappointed.
Service Area
We provide services to customers in the Greater Columbus Ohio area, including the towns and cities of Columbus, Delaware, Dublin, Grove City, Hilliard, Lancaster, Lewis Center, Marion, New Albany, Newark, Pickerington, Plain City, Powell, Upper Arlington and Westerville., Ohio and the surrounding area.
Get a Free In-Yard Estimate!
Our representatives will meet you at your home for a free in-yard estimate. We will help assess your needs and customize a solution that suits both you and your pet. Call today or schedule an appointment to get things started!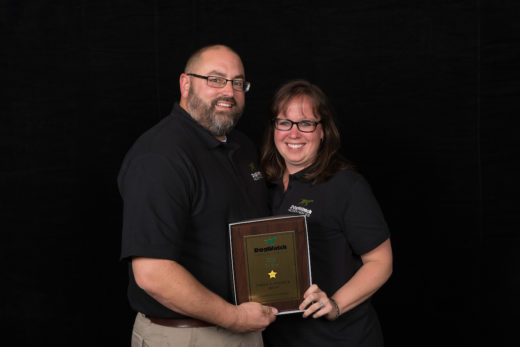 Why Choose DogWatch of Columbus?
1. Our number one concern is the safety and well-being of your pet. We provide the support you need to ensure successful training and happy containment.
2. We provide a proven PetFriendly™ training program. We train your dog (or cat) to recognize the boundary flags and the audible warning signal (or vibration) before introducing the correction.
3. We are experienced professionals committed to providing excellent customer service and support. We strive to service every customer promptly and courteously.
We want to hear about your experience! Write us a review on Google+
Simply the best. No getting around it.™
Another reason to choose DogWatch of Columbus is that we are an authorized DogWatch dealership. The DogWatch Hidden Fence is the most technologically advanced and the easiest to use, and it is backed up by a no-hassle Lifetime Warranty from a company with more than 25 years of keeping pets happy and safe.

What makes us Simply The Best?
---
Customer Testimonial
Pat & Emily, we can't say enough about how happy we are to see Joey running and playing in his newly "fenced" yard. What a joy! We are so proud of him; he learned very quickly! Our experience with your company far surpassed what we could have expected. Very personalized and no high pressure tactics! We will definitely recommend DogWatch of Columbus to any friends and family considering this type of fencing. Thanks again from one dog lover to another!
Butch & Cherri K. - Alexandria, Ohio